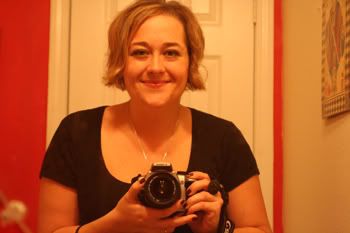 hey ya'll, my name is elizabeth and i'm *so* sorry that it has taken me this long to drop in and introduce myself.
but rest assure, i've been stopping by and getting all inspired by all the beautiful yellow that has been shown.
so i guess ya'll would like to know a lil bit more about me.
again, my name is elizabeth, i'm married to a fab-boo man who puts up with ALOT...lol. i have two lil bug-a-boos, mikey and bella. i live on the gulfcoast of mississippi and greta and i are the bestest of friends. we are almost done building our dream house and i can't wait to get my new scrappy/crafty room all organized and ready to be worked in.
i have been crafty since i was a lil girl. i couldn't imagine living life without some sort of craftiness in it. i started scrappin' about 7 years ago and have been hooked ever since. i think my favorite part (aside from the tension/stress reliever it provides for me) is the fondling and buying of scrappy goods! i also like to knit (but i only know one stitch ;), cross stitch, sew (again, my skills here are limited), make jewelry bits, paint, draw, the list goes on and on.
i'm also addicted to junkin', thriftin', and antiquin'. i collect childrens vintage books, fabric, and anything else that catches my eye. i love things with birdies and owls on em and love the color blue right now.
i guess that is about it for now or ya'll would get the novel version ;)
i'm really excited to participate in this and can't wait to be inspired.
oh, before i forget, here is my contribution for this week.
my yella-crime fightin'-fella :)